Full House at the Merhaba – Second MENA Network Event a Huge Success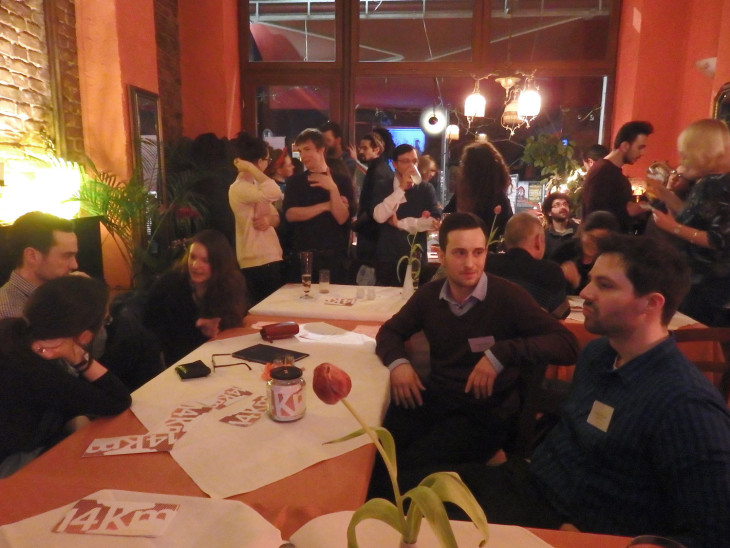 For the second time the 14km team organised a network evening for experts and aficionados of the MENA region. This time it took place at the Restaurant Merhaba in Berlin Prenzlauer Berg. As in the year before the response was great – many interested people came to meet in a relaxed after-work atmosphere and to exchange and discuss ideas, plans and projects regarding the MENA region.
On 19 March 2014, around 50 participants from NGOs/associations, academia, social initiatives, the media, administration as well as business and trade found together to chat, inspire and become inspired, discuss ideas and initiate cooperations, whether professional or voluntary.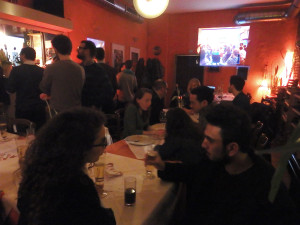 After a short welcome note by Andreas Fricke from 14km, who introduced the guests to some of the projects implemented by 14km in 2014, the participants proceeded to enjoy an evening full of interesting conversations, oriental specialties, photos from the 14km arquive, and atmospheric live music presented by the professional oud player Evren Can Kaman.
Among the guests who had registered for the event were representatives of a broad range of different institutions, including for example the following but also quite a number of individual guests:
Action Syria – Tamer Alawan & Friends e.V.
Brot für die Welt
Stiftung Wissenschaft und Politik
Berliner Missionswerk
BMW-Stiftung
CRISP – Crisis Simulation for Peace e.V.
Democracy Reporting International gGmbH
DAFG – Deutsch-Arabische Freundschaftsgesellschaft e.V.
Deutsche Welle
Deutscher Akademischer Austauschdienst
Eurient e.V.
Freie Universität Berlin
Ghorfa – Arab-German Chamber of Commerce and Industry e.V.
Grüne Jugend
Klaus Schwarz Verlag
OMRAS – Organisation für Menschenrechte in den Arabischen Staaten e.V.
Programmbüro Internationale Klimaschutzinitiative
Schoolclash e.V.
ZMO – Zentrum Moderner Orient
Given that the interest in this year's MENA network event was even greater than the successful last time, it is just a matter of time until we will organise our next MENA network evening. We cordially thank everyone for coming and look forward to seeing you again!
Organisation (14km): Andreas Fricke, Anja Gebel, Caroline Bunge, Evin Kücükali, Helena Burgrova, Houssein Ben Amor, Pauline Trueck, Premek Zboncak, Sama Younes und Steffen Benzler. Fotography (14km): Caroline Bunge
---
---