Save the date: The State of the Egyptian Media, Berlin, 21.05.2014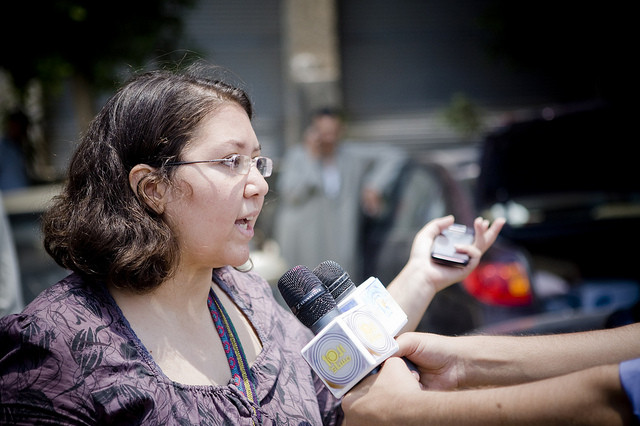 Egyptian citizen journalist Lilian Wagdy provides evidence of military abuses in an interview with a local TV station. Picture courtesy of Hossam el-Hamalawy on Flickr (CC BY-NC-SA 2.0).
14km e.V. and Reporter ohne Grenzen e.V. would like to cordially invite you to our upcoming event on the state of the Egyptian media. In the form of a panel talk followed by an audience discussion with you and several interesting guests we would like to speak about the Egyptian media landscape and the working situation of journalists in Egypt. In addition, we would also like to discuss citizen media and its (actual and potential) role in the Egyptian media landscape and for critical reporting in Egypt.
We would be to happy to see you there and kindly ask you to save the date of the event:
 « The State of the Egyptian Media » on May 21, 2014 from 7 to 10 pm 
at Zentrum für Kunst und Urbanistik (ZK/U), Siemensstraße 27, Berlin.
Soon a more detailed programme will be available. The event will take place in English.

---
Arab Film and Discussion Evening on Lebanon, May 13th, 2014
Event: The State of the Egyptian Media, Berlin, 21 May 2014, 7pm
Arab Film and Discussion Evening on Lebanon, May 13th, 2014
Event: The State of the Egyptian Media, Berlin, 21 May 2014, 7pm
---