The Difficulties of Doing Justice to Yemen in a Documentary
Film Screening: "Expedition Yemen - 126 Degrees in the Shade"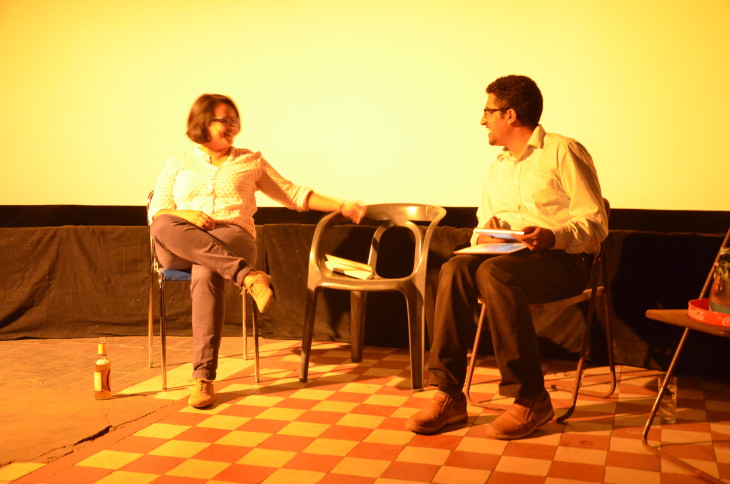 Two Swedes, a camel and the wide Yemeni desert – all set for an adventure. The third evening of our 14km Film and Discussion Series brought opposites together, not only on the screen, but also off it in the Filmrauschpalast filled to capacity with a diverse group of guests. After the film, Amal Nasser, Yemeni activist and co-founder of ArabHub Berlin, and Mohamed al-Thawr of "The Youth Initiative for a New Yemen", discussed stereotypes and diversity, as well as women's rights in contemporary Yemen.

The film's Swedish director, Mikael Strandberg, is a passionate and experienced explorer. According to a friend speaking on his behalf, Strandberg's message to the audience was: "It's very hard to be in Yemen and not to fall in love with the country". However, whether his film succeeds in conveying this same message while portraying the diversity of the country and its people's needs, brought up a range of opinions in the ensuing discussion.
An Adventurous Perspective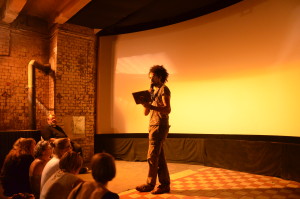 The film is shot from the perspective of an adventurer looking directly into the director's camera. Right from the introduction, the audience is prepared for an expedition, which they watch unravel over 60 minutes from the comfort of their armchairs. We first find the two exhausted explorers in the middle of the desert, seemingly stranded with their camel unwilling to continue. There seems to be no way forward.
We are then transported back to the starting point of the journey in the capital, Sanaa. There, Mikael Strandberg and the journalist Tanya Holm are eagerly getting to know Yemeni society, meeting a Sheikh responsible for negotiations over a murder case. Strandberg is impressed by the good atmosphere among the hundreds of tribal members and their ability to resolve such a sensitive dispute, with neither aggression nor the assistance of the state institutions. He is less impressed, however, by the ever-present weapons and dangers of possible terrorist attacks.
After that episode, we accompany Mikael and Tanya on their gruelling trek through the desert of the al-Mahra region, witnessing the generous hospitality with which the humble local villagers consistently greet them. The adventurers travel by foot in order to get as close as possible to the locals and to try and reciprocate their warmth and curiosity. By contrast, negative images of terrorists and rebel fighters with their attacks, kidnappings and hate speech, hardly appear in the film – they were simply not encountered during the 2012 journey.
And that is a key message of the director: in contrast to the negative coverage of Yemen in the Western media, it is important to paint a positive picture that emphasises the normality of people above and beyond the country's troubles with violence.
Diversity versus Stereotypes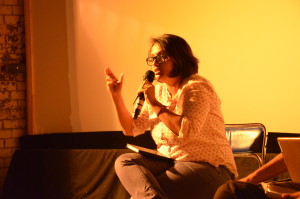 Amal Nasser, invited to the post-film discussion as an expert on Yemen, was left unconvinced by Mikael Strindberg's portrait of Yemen. She points to the early scene portraying the gathering of armed men, or to that set in a Bedouin tent where Strandberg explains to his hosts the workings of a GPS device, as examples of the unbearable stereotypes of Yemenis reproduced even in this film. According to Amal, the film does not show the reality of 9-to-5 professionals or cafe visits among friends in the way they would be captured by local Yemeni directors. Mohamed al-Thawr, however, disagreed. For him, it is clear that the adventurer is looking for exciting snapshots, as he would expect to find them on a dangerous wilderness journey. Of course, there is another daily life in Yemen, but it is not so interesting to document.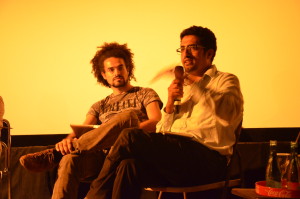 Exploring Yemen's diversity has been somewhat of a personal expedition for Mohamed al-Thawr, who has spent his whole life oscillating between Yemen and Germany. 25 per cent of Yemen's population in the 1960s were Yemeni Jews. To meet a few of those who are still living in Yemen, Mohamed made a contact through his father's hospital, travelled to the Jewish villages and invited the Yemeni Jews to a meeting in Sanaa. "After the masks have been lifted, you can see thousands of similarities [with the Yemeni Jews]," remarked Mohamed al-Thawr on the impressive experience.
Women in Yemen: Emancipated or without Rights?
For Amal Nasser, the lived diversity of a society is closely related to the ability of women to move naturally in public space. Unfortunately, this, along with the representation of women in political office, is rare. Although there are female Yemeni politicians, many are entangled in a corrupt system and do not pursue political programmes on their own. This is in contrast to committed young activists pursuing social goals outside of the political system.
The role of women in society represented a controversial topic during the demonstrations of 2011. Dr. Yahya al-Thawr, Mohamed's father, is convinced that Yemeni women are in fact "very emancipated" as demonstrated by their important role in the demonstrations along with the award of the Nobel Peace Prize to the female Yemeni activist and politician: Tawakkol Karman. Amal Nasser, by contrast, argued that Yemeni women protested as individuals, rather than on behalf of females. For her, it is unfortunately clear that most women in Yemen are oppressed, by fathers, brothers and other authority figures who constrain their free choices. As such, their primary struggle is to achieve their own rights as women, with other revolutionary goals a secondary interest. A Yemeni man in the audience agreed: "It is us men who say that women are supposedly equal in Yemen [rather than the women themselves]".
Yemen Today
Today's violent situation in Yemen has extinguished the hopeful mood that permeated the country in 2011 after the overthrow of Ali Abdullah Saleh. "The war is a disaster," summarised Mohamed al-Thawr.
But this declaration of love, as director Mikael Strandberg describes his film about Yemen, represents at least a small positive beacon amidst a sea of terrible events.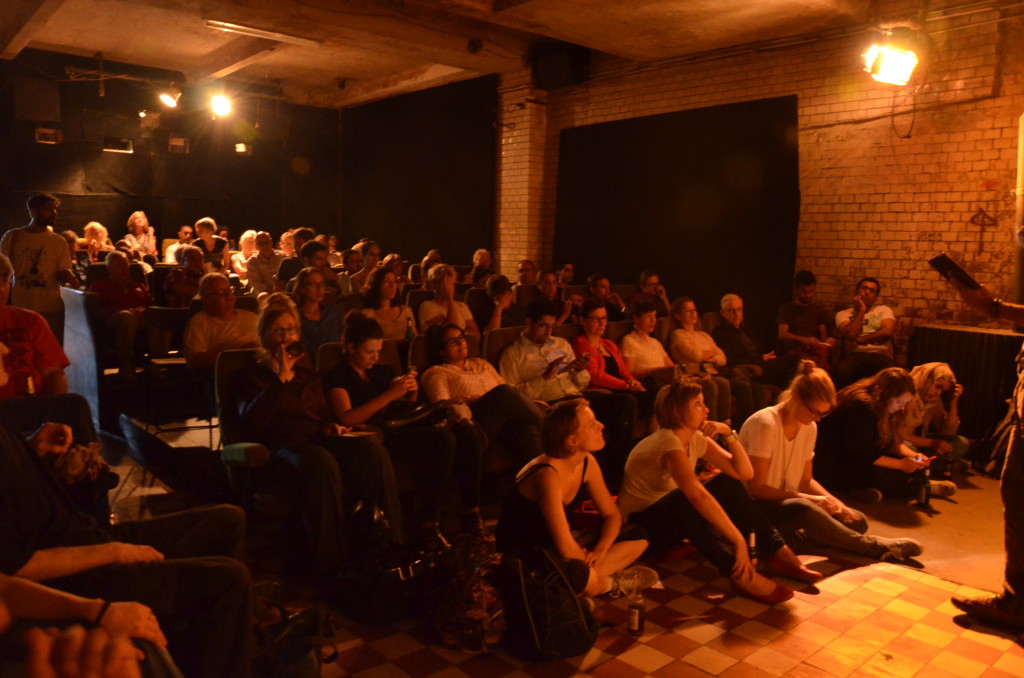 Thanks to Amal Nasser and Mohamed al-Thawr for contributing to the fascinating discussion and for providing their interesting insights into the social and political situation in Yemen.
Event Presentation and Moderation: Hussein Ben Amor
On site coordination: Andreas Fricke
Text: Susanne Kappe
Translation: Alex Odlum
Photos: Jana Vietze
Programme: the 14km Volunteer Film Team
The 14km Film and Discussion Series 2015 gets sponsorship by budgetary funds of the Federal State of Berlin – Office for Development Cooperation.
The upcoming Film and Discussion Event takes place on September 16th and will be about Sudan. Read more about the date and the film screening of "Darfur's Sceleton".
Further events are scheduled as followed:
07 October / 28 October / 18 November / 9 December
The events are dedicatet to a single country or specific topic, in order to give an artistic-documentary impression . The ensuing audience discussion aims to include further informations by an affected person living in Berlin and by an scientific expert, always aiming to make links to North-South relationships.
We express thanks for the support: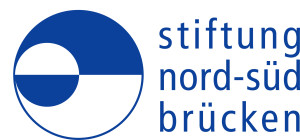 ---
---