Arab Film and Discussion Evening on Libya, April 2nd, 2014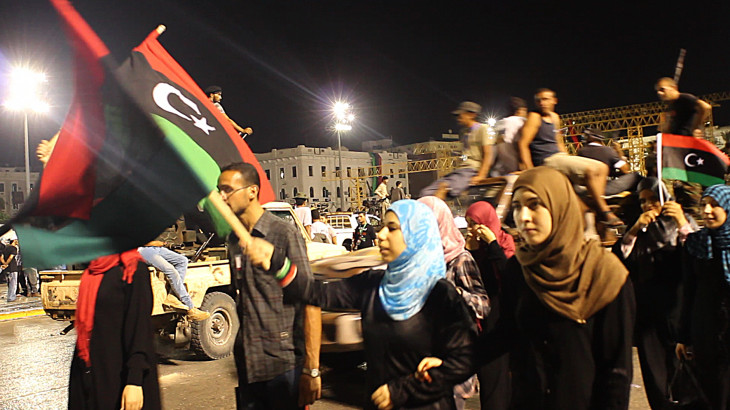 "Libya, the revolution and me", 6:30 pm at Filmrauschpalast, Lehrter Straße 35, Berlin Moabit
We cordially invite you to our film and discussion evening on Libya, which will take place on April 2nd at 6:30 pm in the context of our Arab Film and Discussion Series. We will be screening the film "Libya, the revolution and me" by Nicole Nagel (2013, 82 mins, Arabic/English/German with German subtitles). The film tells how the film maker from Berlin starts documenting the revolt in Libya. While NATO forces support the revolution by air strikes, she portrays the revolutionaries close to the front lines, as well as women supporting them with passion. The filmmaker herself starts holding the revolutionaries' standpoint more and more clearly and open.
The film will be followed by a open conversation and audience discussion in presence of the film maker and further guests on the Libyan revolution of 2011 and following developments, as well as on the repercussions on Libyan immigrants in Moabit and Berlin.
Attendance is free, donations are welcome.
The event will take place at Filmrauschpalast, in the Kulturfabrik Berlin Moabit, Lehrter Str. 35. You can see here where the Kulturfabrik is located.
In regular intervals we screen films which deal with different Arab countries and subsequently discuss the films and current social and political situation in the respective countries with guests from Berlin Moabit as well as with country experts, always aiming to make links to North-South relationships.
Flyer 14km Libya Event download and share!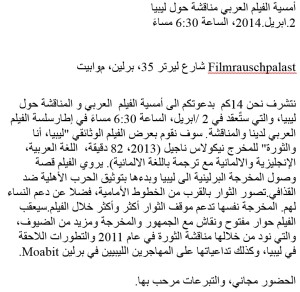 The project receives financial support in the context of the quarter management Moabit Ost through funds from the Programme Social City (EU, Federal Government, and Federal State of Berlin).
---
---