Event: The State of the Egyptian Media, Berlin, 21 May 2014, 7pm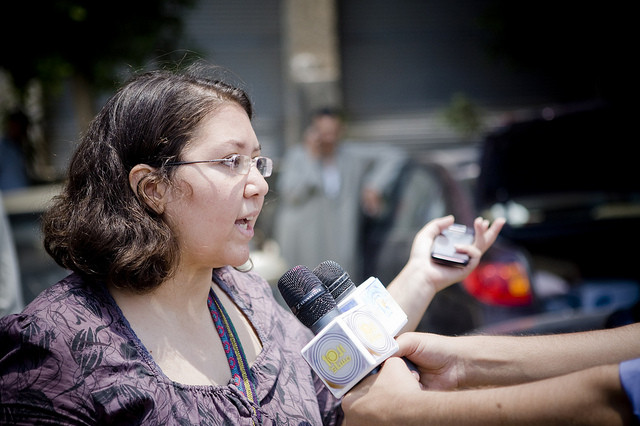 Egyptian citizen journalist Lilian Wagdy provides evidence of military abuses in an interview with a local TV station. Picture courtesy of Hossam el-Hamalawy on Flickr (CC BY-NC-SA 2.0).
14km e.V. and Reporters Without Borders e.V. would like to cordially invite you to our upcoming event on the state of the Egyptian media. In the form of a panel discussion we would like to discuss the Egyptian media landscape and the working situation of journalists in Egypt. In addition, we would also like to deal with the topic of citizen media and its (actual and potential) role in the Egyptian media landscape and for critical reporting in Egypt.
We are happy to discuss this topic with you as well with the following interesting guests who will be on the panel: 
Christoph Dreyer, Middle East expert and responsible for public relations at Reporter without Borders since 2013. Previously he wrote reports about the Arab and Muslim world for radio channels, online media and newspapers. He was editor for Reuters und regional correspondent for the Deutsche Presse-Agentur dpa.
Shahira Amin an Egyptian journalist and former deputy head of Egyptian state-owned Nile TV. She resigned from the position on February 3, 2011, in the midst of the Egyptian revolution, due to her disapproval of the channel's coverage of the events. Shahira Amin has been a correspondent for CNN's weekly program Inside Africa for 8 years.
Mohamed Selim Khalil, Egyptian journalist (e.g. for the Daily News Egypt) and media analyst with a research emphasis on Political Communication in the Arab World, currently lecturer at the Westfälische Wilhelms-Universität in Münster, Germany. In several articles he criticised the lack of press freedom and the deterioration of journalist's work conditions in Egypt.
Farid Farid, Middle East and North Africa Media Coordinator at Transparency International. Previously, he worked as an online journalist with SBS World News Australia. He has also published in academic and news publications such as Le Monde Diplomatique, Al Jazeera English, Social Semiotics and Sydney Morning Herald.
We would be happy to see you at the event:
«The State of the Egyptian Media» on May 21, 2014 from 7 pm at Zentrum für Kunst und Urbanistik (ZK/U), Siemensstraße 27, Berlin.
The event will take place in English.

---
---