14km annual review – Please support us!
Dear Friends of 14 km e.V.,
the shortest distance between Europe and North Africa are merely 14 kilometres – yet, at times it appears much larger. We are a young, non-profit organisation that seeks to facilitate the exchange of good ideas across border lines, and we wish to continue and expand our success with your support!
Our main goal is to advance intercultural dialogue and constructive cooperation between Europe and North Africa/the Middle East. Our work is defined by a unique approach focusing on social interaction – the encounter of people with origins in both regions is a main characteristic of our activities, whether youth exchange or movie screening.
We understand our organization as an independent platform offering space for exchange and ideas in which people can openly engage and initiate projects. Our team consists of young active individuals with diverse backgrounds. These people are investing their time mostly on a volunteer basis, which requires great motivation and a positive outlook. The creation of projects and events but also the daily routines such as the maintenance of our website all require financial investment and time.
Hence, we ask you to kindly support 14 km e.V. with your financial contribution and help us bridge the distance between Europe and North Africa!
In the following you can get a picture of the many projects we were able to complete in 2014!
---
ReliXchange – an interreligious Youth Exchange between Germany and Egypt
ReliXchange is an inter-religious youth exchange between Germany and Egypt in the course of which twenty young German and Egyptians from various backgrounds spent one week in Berlin and one week in Cairo together. In a number of workshops, visits of religious sights and discussion rounds, the participants dealt with the topics of religion, society and tolerance. The intensity of the encounter, the motivation and enthusiasm of the participants, and the friendships which developed made these two weeks a unique experience – in the coming years, we would like to repeat it with all the other people interested in taking part! The methods applied in the exchange will be shortly available
here
for your information, inspiration and further use.
This year, we organized four film screenings from March till June in which we showed documentaries addressing social and political themes in the Arab region. Afterwards participants could gain deeper insights discussing the respective topic with country experts of different kinds.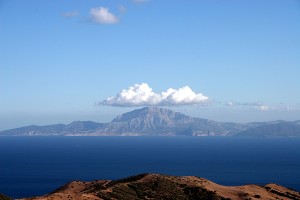 In July 2014 we organised a two-day symposium in cooperation with the German-Arab Friendship Association (DAFG). The event centered on the migration situation in the countries of origin and transition, the European migration policies and the networks that have developed through migration between the African and the European continent. Furthermore, the symposium offered diaspora organisations and other associations active in the area of migration a platform to present their activities, exchange ideas, network and find supporters for new project ideas.
---
"Against Exclusion! Transcending walls and building bridges via Street Art"
Together with the Egyptian organisation
El Takeiba Centre for Artistic and Cultural Development,
the youth club
Feuerwache
as well as
YAAM,
14 km e.V. organised a Street Art Workshop for young people in June 2014. In this workshop, young participants had the chance to aqcuire new graffiti and stencil techniques by working closely with Egyptian guests  and street art experts. At the same time they found out how street art is used as a means of peaceful protes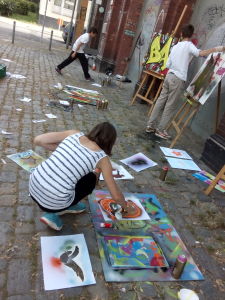 t and political expression in Egypt and Tunisia.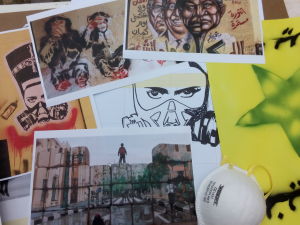 ---
In May 2014, we organized a discussion event with Reporters Without Borders where Egyptian and German media professionals offered their expertise on the present situation of journalism and the media in Egypt. The relevance of citizen journalism, as an alternative information source to the state-controlled media, was particularly emphasised.
We regularly offer internship and volunteering opportunities for Europeans to experience working with our partner organisation in the Middle East and North Africa. Our international volunteer programme is run by six volunteers who match interested applicants with suitable organisations. During their stay, participants can enhance their intercultural competence and gain practical work experience – at the same time, they support the work of small local NGOs and develop sustainable social networks between the two regions.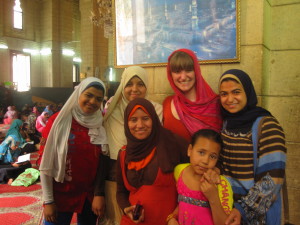 "My internship allowed me to experience all that – and not as a tourist, but as an inhabitant of Cairo, as an intern in a local NGO, with a daily life. It made the foreign and giant city a familiar place to which I have now developed many unforgettable connections, looking back on experiences I don't want to miss."
(
Malindi
)
---
We have many more ideas which we hope to realise in the near future! Hence, we appreciate every donation supporting us in this! If you are interested in supporting a specific project and would like to receive further information, you may contact Anja Gebel at
anja.gebel@14km.org
and
+49 (0) 157 – 89624895
.
We thank you for your kind donation!
Account Holder: 14km
Bank: GLS Gemeinschaftsbank
IBAN: DE97 43060967 1159374500
BIC: GENO DE M 1 GLS
Upon request, we will be happy to name our sponsors on our website, and/or provide them with a donation receipt.
Best regards,
Your 14km Team
---
14km e.V. | Stephanstr. 19  | 10559 Berlin  | Germany  |
www.14km.org
phone: +49 (0) 30 83 21 0 828  | mobile: +49 (0)157 89 62 48 95  | mail:
info@14km.org
---