Children in War and Escape: "Turtles Can Fly"
14km Film and Discussion Event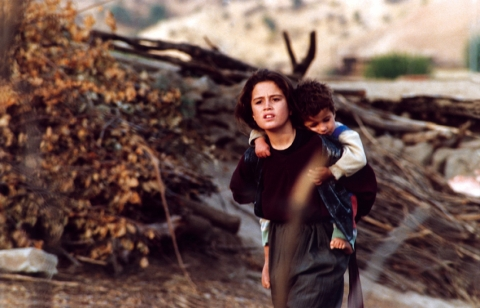 "Turtles Can Fly" (Iran/Iraq/France, 2004, in the original with German subtitles, 98 mins) by Bahman Ghobadi on Wednesday, 22 July 2015 at 18:30 (6:30 pm) at Filmrauschpalast cinema, Lehrter Strasse 35, 10557 Berlin Moabit
14km.org presents the second event of the 14km Film and Discussion Series 2015.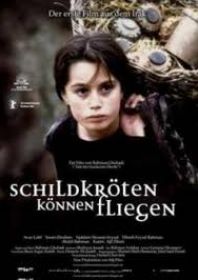 Discussing the consequences of war and flight for children is the issue of our next film screening. We screen the award-winning feature movie Turtles Can Fly (inter alia The Golden Shell at 52nd San Sebastian Film Festival 2004 and the Peace Film Award at Berlinale 2005) by Bahman Ghobadi in Kurdish with German subtitles and in the 35mm celluloid version. The movie tells the story of thirteen-year-old Satellite, who is the leader of a children's gang that collects mines in the borderland of Northern Iraq to sell them at the local black market, and the war-traumatized Agrin. Shortly before the 2003 American invasion of Iraq both meet in a refugee camp.
The following open conversation and audience discussion with invited experts will scrutinize the effects of war and escape on children as well as the actual situation in Northern Iraq. The discussion will be held in German.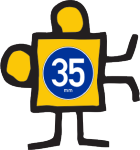 Attendance is free, donations are welcome.
The event takes place at Filmrauschpalast cinema at the Kulturfabrik in Berlin Moabit (Lehrter Straße 35, 10557 Berlin).
The discussion ends around 22:00 (10 pm) at the latest.
The 14km Film and Discussion Series 2015 gets sponsorship by budgetary funds of the Federal State of Berlin – Office for Development Cooperation.
Further events are scheduled as followed:
26 August / 16 September / 07 October / 28 October / 18 November / 9 December
The events are dedicatet to a single country or specific topic, in order to give an artistic-documentary impression . The ensuing audience discussion aims to include further informations by an affected person living in Berlin and by an scientific expert, always aiming to make links to North-South relationships.
We express thanks for the support: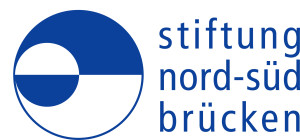 ---