1. Interkulturelles Seminar am 30.01.2016 in Berlin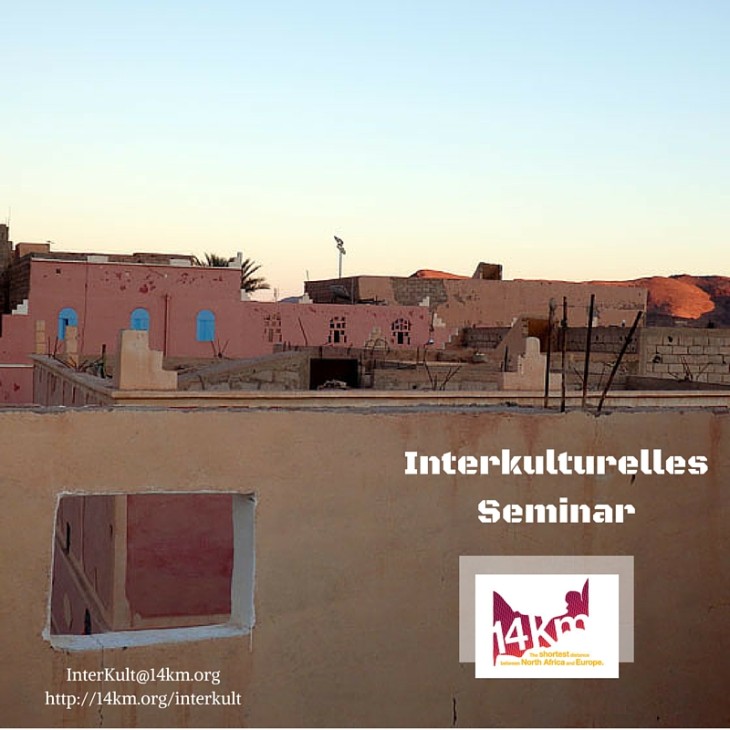 Ab Januar 2016 führt das Team von 14km e.V. – the shortest distance between North Africa and Europe interkulturelle Seminare durch.
Ziel ist es, für künftige Auslandsaufenthalte in der Region Nordafrika und Naher Osten zu sensibilisieren.
Dabei wollen wir unser Wissen und unsere Auslandserfahrungen in der Region Nordafrika und Naher Osten gern weitergeben und Euch auf die kulturellen Besonderheiten und Unterschiede in der Region vorbereiten.
An dem ganztägigen, interaktiven Workshop möchten wir Euch durch Vorträge grundlegende Informationen vermitteln. Mit Hilfe verschiedener Methoden wollen wir zu einem lebendigen und erfahrungsorientierten Lernen anregen. Dabei sollen auch mögliche Vorurteile und Stereotype thematisiert bzw. reduziert werden.
Kosten
Das Seminar kostet 25 € inkl. der Bereitstellung von kleinen Snacks in der Mittagspause und Getränken.
Für Schüler und Studenten gibt es eine Ermäßigung von 5 €.
Termine
Das erste Seminar wird am 30.01.2016 stattfinden.
Weitere Termine werden folgen.
Außerdem besteht die Möglichkeit ab einer interessierten Gruppe von 5 Personen individuelle Termine für ein Seminar mit uns zu vereinbaren.
Interesse?
Kontaktiert uns gern oder meldet Euch an unter: InterKult@14km.org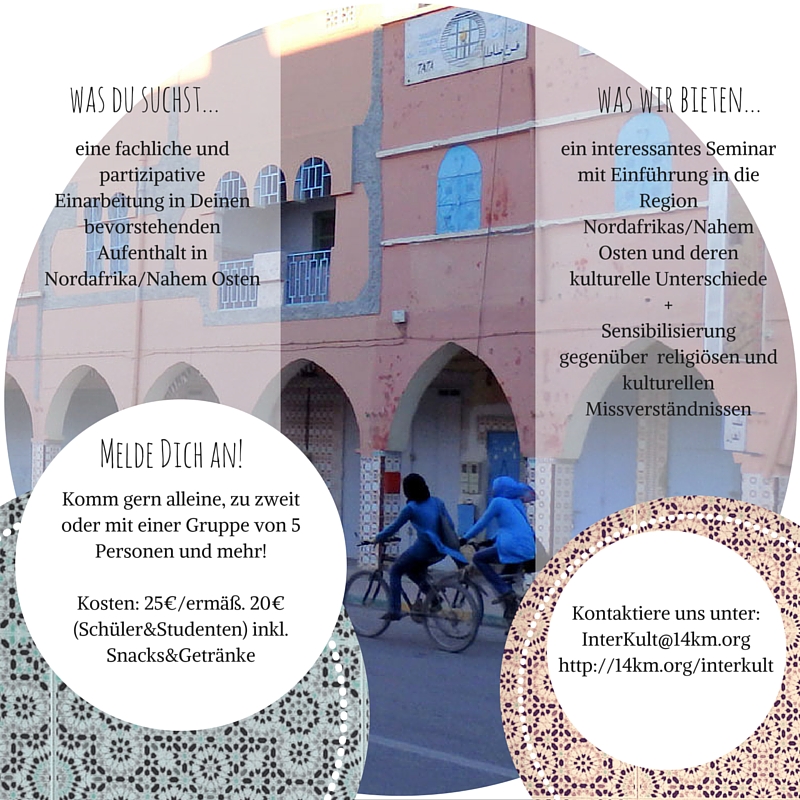 ---