"ReliXchange" project successfully completed – open educational material published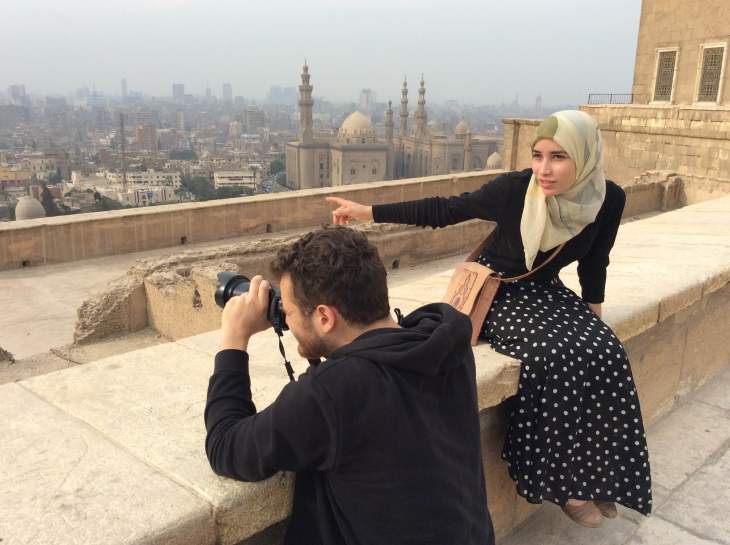 Last December, 2014, 14km and the Egyptian NGO "New Horizon" successfully completed the project "ReliXchange – an Interreligious Youth Exchange between Germany and Egypt". In the course of the project a range of educational material was developed and has now been published by 14km as free educational resources. In addition, a documentary film provides insights into the most interesting moments of the exchange.
"Don't cry because it is over, smile because it happened" (Dr.Seuss) – with this sentence the young participants of "ReliXchange" started their last blog entry about the project. During a total of 10 programme days they documented
their joint adventures and experiences in Berlin and Cairo
. During this time the ten young Germans and ten young Egyptians between 18 and 26 years of age discovered religion and culture in Germany and Egypt. Every day they learned something new about the so-called Abrahamic religions (or "religions of the book") and dealt with the situation and position of the respective religious communities in both countries. In particular, they thought about and discussed the relations between religious minorities and majorities – how they are and how they should be –, religion-based and culture-based discrimination and oppression, and how religion is interwoven with the state, society and individuals in manifold and complex ways.
An intense programme with innovative methods
The
programme
included numerous guided visits to religious sites in both countries (e.g. the citadel in Cairo or the synagogue at Fraenkelufer in Berlin), discussion rounds with experts on different topics (such as women in Islam or the Bahá'í as religious minority in Germany), a visit to the Anne-Frank-Center in Berlin and of course many discussion and reflection units. Methodically, the programme focused on creative-artistic methods. Accordingly, it comprised methods of the "Theatre of the Oppressed" by Augusto Boal, a
GPS educational tour through Berlin
, a media exercise on religious pop culture, a
hip hop workshop
on the topic of religion and tolerance, a photo essay on religion in public space in Berlin and Cairo in comparison as well as a picture story on inter-religious relationships.
Publication of a range of open educational resources
In the course of this not only a number of products were created which can also serve as inspirations for others, but also several free educational resources which can be used for other interreligious projects. Next to the great
video documentation of the "ReliXchange"
by zeitgebilde/mediale pfade.de, in particular the
Method Kit for International Inter-Religious Youth Work
should be mentioned, which is available in German, English and even Arabic and can be downloaded for free from the 14km website.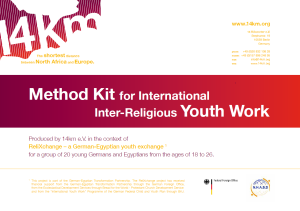 Also the
GPS educational tour on "Religion in Berlin"
through Berlin Mitte, which was developed and tested in the project, is freely accessible in German and English. Additionally, our cooperation partner 1219 e.V. has produced another inter-religious educational
GPS-tour through Berlin Southwest
– it is freely available in German and English, too. The
"Quiz of Religions"
(in English) offers an entertaining introduction to the topic of Abrahamic religious communities in the German context and was played with enthusiasm by the ReliXchange group. The
ReliXchange song "Believe in yourself"
was developed in a hip hop workshop with Amin Saleh from Rap4Respect and expresses the participants' thoughts and wished on the topic of religions and tolerance.
The interreligious dialogue continues…
For "14km – the shortest distance between North Africa and Europe" and the Egyptian partner organisation "New Horizon Association for Social Development" (Cairo) the exchange project
"ReliXchange"
was a great success. "It made us very happy and proud to see how open and interested the participants from Germany and Egypt approached each other, and to witness how strong friendships developed over the two weeks of the exchange", said 14km project manager Dr. Anja Gebel. The contacts are now being maintained via a Facebook group where the participants exchange their thoughts on intercultural and interreligious topics and every couple of days there are new postings. For the future, the participants have developed concrete ideas on how they would like to become engaged for understanding and tolerance between members of different religions and/or cultures – for example through seminars and discussion events at their universities.
…at 14km and elsewhere
Based on the successful exchange, 14km is planning to organise further youth encounters and exchange projects with youth from both regions. Two such projects are already in the making and hopes now lie on the funding approvals. At the same time, the NGO wishes that by means of the published materials other organisations and individuals will be encouraged to implement inter-religious projects on local and international level. "It makes us happy if the materials are used and shared by many interested people", says Dr. Gebel. "ReliXchange – and Interreligious Youth Exchange between Germany and Egypt" took place as a project in the context of the German-Egyptian Tranformation Partnership. It received financial support by the German-Egyptian Transformation Partnership through the German Foreign Office, by funds of the Ecclesiastical Development Services through Bread for the World – Protestant Church Development Service and by the "International Youth Work" Programme of the German Federal Child and Youth Plan through BKJ.
Main project page:
http://14km.org/relixchange/
(German)
http://14km.org/relixchange/?lang=en
(English)
---